Welcome to Prevention Orthodontics in Chicago and Mt. Prospect, IL
Dr. Kevin McCoy and his team work together to provide the highest quality orthodontic services in a friendly, caring manner.  
We let the patient decide if they want braces or clear aligners to straighten their teeth.  
With early monitoring as your child's permanent teeth erupt, monitoring that should start at age six, Dr. McCoy can help you prevent the development of difficult to correct orthodontic problems that dentists simply let happen.
Did you know that the longer you wait to first see an orthodontist, the longer your teenager will need to be in braces?  That's a big bummer.
We all need to think Prevention Orthodontics, because Dr. McCoy can help prevent orthodontic problems from arising AS your child's teeth start to erupt at age six, without braces, so that when your child does need braces at around age twelve, their treatment will be shorter, and you will get more value out of their treatment just in case your teenager isn't a good cooperator.
When you come in at age six, we take photos and you go home.  That's it.  
We put you on recall to monitor the eruption of your child's permanent teeth because Dr. McCoy knows the right time and how to prevent orthodontic problems from becoming difficult and time-consuming to correct simply because your dentist said to wait until they lost all of their baby teeth.  
Nowhere, in any book, is it advised to wait until you lose all of your primary teeth to see an orthodontist.
Dr. McCoy's team been working together for many years, providing orthodontic excellence and happy smiles to our patients.  Our goal is to provide the highest quality orthodontic treatment for all our patients with a personal touch in a supportive and caring environment.  We love what we do and it shows!
Dr. McCoy has over 30 years of orthodontic experience and over 20 years of clear aligner treatment, combining new technology with a commitment to quality and patient comfort.  Dr. McCoy graduated at the top of his class in 1990 from the number three orthodontic school in the world at Northwestern University.  
Dr. McCoy's office has been paperless since 1993 and he continues to be at the leading edge of orthodontic technology!
Dr. McCoy is a perfectionist – isn't that what you want from your orthodontist?
Ever been told you are not an Invisalign or SureSmile 
Clear Aligner Candidate and must settle for braces?
Everyone is a SureSmile and Invisalign Clear Aligner candidate at Prevention Orthodontics with Dr. McCoy!
We treat many patients who were told by other doctors that they couldn't have Invisalign or SureSmile Clear Aligners.  
If you want SureSmile or Invisalign clear aligners or Invisalign Teen, Dr. McCoy and his team CAN MAKE IT HAPPEN!
Elite SureSmile and Invisalign Clear Aligner orthodontist Dr. Kevin McCoy has treated thousands of SureSmile and Invisalign patients, no matter how difficult the problem.  You deserve 21st century orthodontic care!
Dr. McCoy uses the latest advances in orthodontics available today and can treat you with SureSmile and Invisalign Clear Aligners faster, better, and with great results.  The difference is in the training and attention to detail.  View before and after results
Choose the Right orthodontist in Chicago and Mount Prospect – Dr. McCoy!
We offer iTero 3D scanning that eliminates the need for bulky, messy, dental impressions (yuck!)
Choose from multiple treatment options to meet your personalized needs, including clear and metal braces, or clear aligner treatment with SureSmile and Invisalign.
Our practice is not only focused on you achieving a beautiful and healthy smile but also providing  you with the highest level of patient care.
We are respectful of your appointment time.  We do our best to stay on time so you can, too.
Our goal is to make orthodontic treatment affordable for everyone. 
Multiple payment options including are available with interest-free financing and discounts for multiple family members! 
We are always available to answer any questions or concerns you may have.
We offer a patient rewards program to motivate both adults and kids interested in their treatment.  Plus, you can win prizes and gift cards just for being awesome!
Throughout the years, we have witnessed the positive effect that excellent orthodontic care can have on the lives of our patients and the self confidence that develops from a beautiful smile.
Get Started Today!
Contact either of our two convenient locations today in Chicago and Mount Prospect to find out how we can help you create the smile of your dreams!
20 Years of Invisalign Experience
Don't trust your smile to automated software -
Dr. McCoy designs your tooth movements himself.
An early adopter of SureSmile and Invisalign clear aligner treatment, Dr. McCoy is the only orthodontist in Illinois, Wisconsin, and Michigan that can treat 99% of patients with clear aligners. We still do braces if that's your style!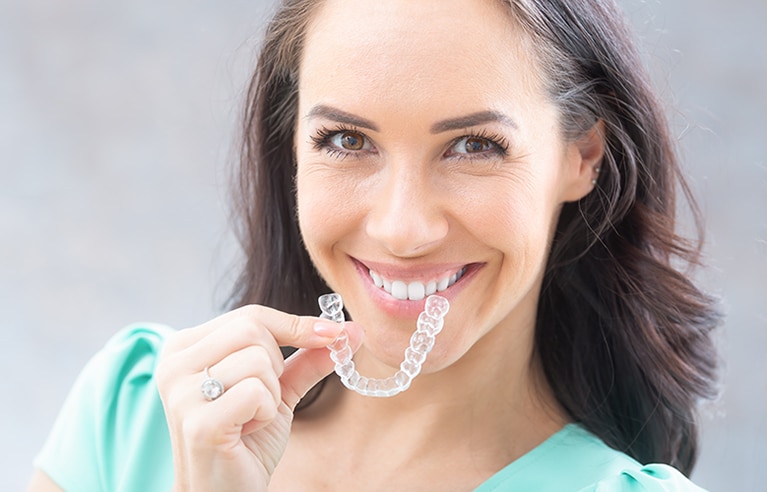 Dentists mistakenly adopt a wait and see approach for your growing child because dentists were not trained about Prevention Orthodontics!
And can't my dentist straighten my teeth?

Patients Love the Prevention Orthodontics Team!